Aleph Hospitality partners with Masai Ujiri, NBA Champion and President of Toronto Raptors, to develop Zaria Court Hotel
Zaria Court Masai Ujiri President of NBA's Toronto Raptors
KIGALI, Rwanda, 8 November 2023 -/African Media Agency(AMA)/- Dubai-based independent hospitality management company Aleph Hospitality has signed a contract to manage Zaria Court Hotel in Kigali, Rwanda.
Rwanda's President Paul Kagame and Masai Ujiri, President of the NBA's Toronto Raptors and founder of the Giants of Africa foundation graced the groundbreaking event for the construction of the 2.4 hectares Zaria Court. The urban lifestyle hub will be home to an array of recreational services, including an 80-room hotel, food and beverage outlets, retail, an outdoor amphitheatre, and a vast sports complex.
Zaria Court ground breaking Masai Ujiri and President Paul Kagame
Set to open in in the first quarter of 2025, the 4-star hotel will feature 80 rooms and suites, co-working areas, a members' club, a restaurant, a roof top bar, a sports bar, meeting rooms and a state-of-the-art gym. Aleph Hospitality will manage the hotel by applying sustainable practices and ensuring an effortless service, delivered by local teams.
Inspired by NBA Champion and global philanthropist Masai Ujiri, Zaria Court is the first in a series of urban hubs for sports, social and cultural community gatherings across Africa, with expansion plans in Nairobi, Dakar, Accra, Lagos and Johannesburg over the next five years.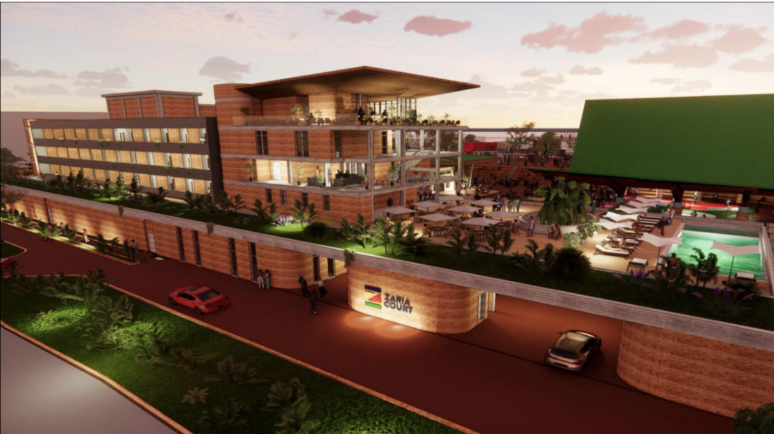 Zaria Court hotel rendering
Masai Ujiri said, "Sports infrastructure is a critical infrastructure for building vibrant economies. Zaria Court is a place where people will come together to convene, compete, and celebrate. This hotel is a core component of the site, and we look forward to working with Aleph Hospitality to create a place where everyone feels welcome."
Bani Haddad, Founder and Managing Director, said "We are excited to be a project partner with Zaria Court and to be part of this coordinated focus on community, hospitality, sports and culture in Rwanda, one of the fastest-developing countries in Africa."
Distributed by African Media Agency (AMA) on behalf of Aleph Hospitality .
About Aleph Hospitality
Born and based in Dubai, Aleph Hospitality is a dynamic hotel management company, working for owners to maximise the value of their assets in the Middle East and Africa. The regional specialist's customised, results-driven alternative to traditional hotel management models includes third party and white label operations. Aleph Hospitality manages hotels directly for owners and facilitates franchising partnerships with leading global brands. With in-depth market knowledge, several decades' experience working with the world's largest hotel companies, and a company culture based on trust, responsiveness and flexibility, Aleph Hospitality delivers superior results for hotel owners, an exceptional hospitality experience for its guests and a professional environment for its workforce. Aleph has 10 operating hotels in its portfolio and has earmarked a pipeline of 50 hotels in the Middle East and Africa by 2026. To find out more, visit alephhospitality.com.
CONTACT:
Anne Bleeker, Managing Partner, In2 Consulting
anne@in2consulting.com / +971 56 603 0886
The post Aleph Hospitality Signs Contract To Manage Its Second Hotel In Kigali, Rwanda appeared first on African Media Agency.