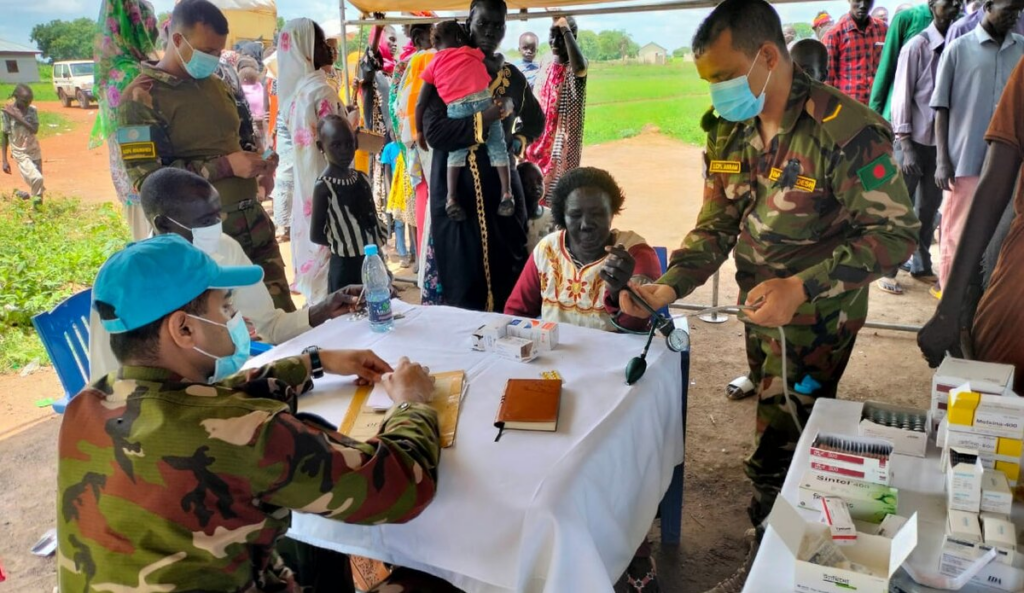 JUBA, South Sudan, 9 August 2023 -/African Media Agency(AMA)/- Strengthening partnerships with local counterparts and communities remains a key priority for the United Nations Mission in South Sudan (UNMISS).
Recently, in Kuajok, the capital of Warrap, Blue Helmets serving for peace held two events designed to boost abilities and confidence among host populations—a training for correctional officers and inmates at the State Prison on sustainable farming and a free health consultation for returnees escaping fighting in Sudan.
During the first event, modern agricultural practices such as crop care and pest control were the order of the day.
"While we are slowly healing from the trauma of past civil war and conflict, we have a new enemy to deal with—climate shocks," explained Lieutenant Colonel Ayok Ayok Deng, Acting Director of Kuajok State Prison.
"This initiative by UNMISS peacekeepers is timely, not only because we will be able to use the good practices discussed to improve our yields, but it also helps prisoners build capacities so that they can reintegrate better into society upon completing their sentences. Simply put, they have given us hope," he added.
Since it is currently planting season Acting Director Deng says he is optimistic that putting these farming skills into practice immediately to ensure prisoners are gainfully occupied and the prison doesn't suffer from food shortages.
When it came to providing free health checkups for returnees, Bangladeshi peacekeepers received similar appreciation for their efforts to treat some 300 individuals for various medical conditions at the transit center.
"With the Ministry of Health facing shortfalls of staff and medicines, we were thrilled that UNMISS could lend a much needed helping hand to help returnees who have suffered tremendously while fleeing the Sudan conflict. This effort has not only helped state authorities but brought relief to returnees," asserted Wol Maror, a health worker with Warrap state's Ministry of Health.
For his part, Lieutenant Colonel Ruhul Amin, Commanding Officer of the Bangladeshi troops, says he believes such activities foster trust in the long term between the UN Peacekeeping mission and local communities.
"South Sudanese depend massively on agriculture for their livelihoods and sharing farming skills empower them," he stated. "The same goes for medical outreach—health is wealth, as we all know. I am heartened to see that our work has helped people who needed assistance the most."
Distributed by African Media Agency (AMA) on behalf of UNMISS.
The post UNMISS peacekeepers from Bangladesh build hope through community assistance appeared first on African Media Agency.