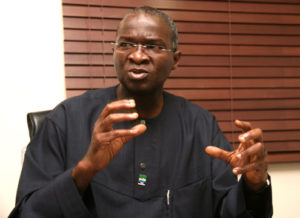 On Wednesday, we ran a story  on the query the Bureau for Public Procurement (BPP) sent the Minister of Works, Power and Housing, Babatunde Fashola,  over the award of 10 road and bridge contracts worth N166 billion.
The BPP said the minister and his ministry violated the laws guiding contract awards in Nigeria in the manner they selected contractors for the projects.
The procurement agency also asked Mr. Fashola to explain, among other things, why the costs of some of the projects were inflated and why some were awarded to unqualified firms.
The construction of the roads and bridges, spread across the country, were appropriated for in the ministry's 2016 budget.
But hours after the story ran, Mr. Fashola's spokesperson, Hakeem Bello, circulated a statement saying it was the evaluation committee in his ministry, not him, which committed the procurement blunders identified by the BPP.
He also made other hair splitting claims which sought to trivialise the serious issues of accountability raised in our report.
Given that our first story was a long narrative of the issues raised by the BPP, and given that the minister may have been too busy to comprehend the key issues in that lengthy report, we believe it is necessary to summarise the issues into a few short questions for him to answer.
Mr. Fashola, below are the questions for you.