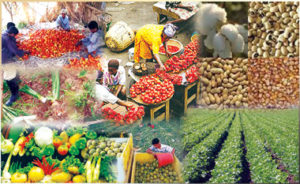 The Nigeria Incentive Based Risk-Sharing for Agricultural Lending (NIRSAL) has signed a Memorandum of Understanding (MOU) with Group Crédit Agricole (GCAM) – a top-ranking Moroccan financial institution – to boost credit to Nigeria's small holder farmers.
The key objectives of the MOU according to Metrobusinessnews report  are to increase the flow of finance and technical expertise into commercial agriculture, catalyze the development of agro-industrial chains and increase the capacity of smallholder farmers in rural areas to expand the scale of their operations and productivity.
The MOU is in line with iNIRSAL's mandate to de-risk and facilitate private finance into the agric sector.
Under the terms of the agreement, NIRSAL and GCAM will collaborate to deepen credit operations and increase lending across the entire agricultural value chain.
In addition, they will also work together to mobilize international funding for inclusive agricultural development and financing of high impact agricultural  projects.
Other areas of collaboration under the MOU include exchange of support functions on agricultural risk analysis and management; exchange of knowledge on non-financial support for small farmers in terms of financial education, technical and management capacity building, adaptation to climate change and exploring institutional support mechanism to strengthen establishment of the internal structure and processes of both institutions through technical assistance.
NIRSAL's Managing Director, Aliyu Abdulhameed signed on behalf of NIRSAL while the Chairman of GCAM, Mr. Tariq Sijilmassi signed on behalf of his institution.
The signing ceremony was witnessed by the President, Muhammadu Buhari and King Mohammed VI of Morocco.  Top ranking Nigerian dignitaries at the event include the Minister of Federal Capital Territory (FCT), Mallam Muhammed Musa Bello, the Jigawa State Governor, Alhaji Badaru Abubakar and the National Security Adviser Mohammed Babagana Monguno.
Also present at the event were the Minister of Foreign Affairs, Geoffrey J.K Onyeama, Managing Director of Nigerian Ports Authority (NPA) Hadiza Bala Usman, Director General of the Securities and Exchange Commission (SEC), Mounir H. Gwarzo, Chief Executive Officer of the Nigerian Stock Exchange Mr. Osita Onyema and the Managing Director of Nigerian Sovereign Investment Authority (NSIA) Mr. Uche Orji.
NIRSAL's mandate is to catalyze a national agricultural revolution by boosting commercial agricultural productivity, competitiveness, value addition, market access and food security through the mechanism of de-risking the agricultural value chain in order to encourage investment by banks and the entire financial sector.
Established in 1929, GCAM has a network of over 278 branches throughout Morocco. The bank also has an international presence, with locations in France, the Netherlands and Italy, and has relationships with more than 700 banking correspondents worldwide.
Speaking after the MOU signing, NIRSAL CEO,  Abdulhameed said that he was excited at the positive boost that the partnership with the top ranking Moroccan investment bank will have on current efforts by NIRSAL to boost agricultural development in the country.
"I am quite excited at the boost that this collaboration with the Moroccan government and Credit du Maroc will have on our efforts to finance de-risked agricultural value chains with the resultant increase in overall commercial and sustainable financing of agricultural projects in Nigeria," a statement signed by Bello Abdullahi Abba, Coordinator Research & Strategy at NIRSAL quoted him to have said.
"The expansive scope of the collaboration which includes finance, technical expertise and sharing of best practices fits exactly into our model and will help greatly in our efforts to reach even more agricultural producers and smallholder farmers".
According to Abba, the MOU is a product of the bilateral agreement between the Nigerian and Moroccan government to deepen bi-lateral collaboration in the sharing of financing models and technical expertise towards agricultural development.