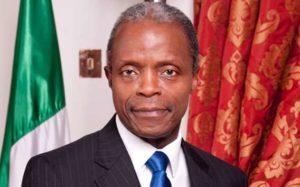 FG is planning a budget of more than 7 trillion naira ($22.2 billion) next year, Vice President Yemi Osinbajo said, to boost spending and help pull the economy out of its worst crisis in more than two decades.
 "Our entire budget for 2016 is … just over 6 trillion naira. We will probably be moving to about 7 trillion naira in the 2017 budget," Osinbajo said during visits to manufacturers on Thursday.
He said Nigeria's economy of around 90 trillion naira ($285.3 billion) needed more spending to make an impact. The West African country planned a record 6.06 trillion naira budget for 2016, but it has struggled to fund it.
Nigeria is in its deepest recession in 25 years and needs to find money to make up for a shortfall in its budget this year. Its revenues from oil have plunged along as the price of crude fell and militants attacked its crude-producing heartland, the Niger Delta, cutting its output.
Ratings agency Moody's forecast the Nigerian economy would expand 2.5 percent next year if it could produce 2.2 million barrels of oil per day – the level at which the government made its 2016 budget calculations.
On Wednesday, Budget Minister Udoma Udo Udoma said the cabinet had approved next year's budget without providing details. The vice president told Reuters this week the president will present 2017 budget to parliament by mid-December. ($1 = 315.50 naira)