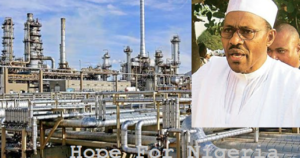 Senate has moved forward a first piece of much-delayed legislation to tackle long-standing problems in managing the nation's oil wealth, aiming to agree details for full consideration in just four weeks, lawmakers said.
The Petroleum Industry Bill (PIB), stuck in parliament for a decade, aims to tackle everything from an overhaul of state oil company NNPC to taxes on upstream projects in a sector riddled with corruption.
The Senate, parliament's upper house, gave initial approval in the second reading late on Wednesday to the draft plan to overhaul the state oil industry, a procedural move that allows the bill to move forward, MPs said.
In a draft seen by Reuters in April, Nigeria planned to split state oil company NNPC into two to help ease a planned stake sale in the coming years.
"The poor performance of the NNPC is a major concern. The commercialisation of the corporation and its splitting into two entities is for more efficiency and to enhance performance," said Senator Tayo Alasoadura, who sponsored the bill.
"It (the bill) also provides for the establishment of a single petroleum regulatory commission which will focus mainly on regulating the industry," he said.
The draft does not include the future fiscal regime and taxation for oil firms and the role of host communities — one of the most contentious aspects as militants and villages in the impoverished Niger Delta demand a greater share of the oil revenues it generates and more benefits from oil majors.
The next step is for parliamentary committees to provide a report within four weeks after which the Senate will go clause by clause through the final version, lawmakers said.
No more details were immediately available.
Senate leader Bukola Saraki and Oil Minister Emmanuel Ibe Kachikwu have repeatedly said the bill would be split to speed up approval but not given details yet of the bill, central to President Muhammadu Buhari's reform of the sector.
The inability to pass the bill and uncertainty around taxation and government funds during a slump in oil revenue has stunted investment, particularly in deep-water oil and gas fields.
Nigeria's oil output has risen to 2.1 million barrels a day, Kachikwu said on Tuesday, after plunging due to militant attacks to 1.37 million barrels per day in May, the lowest level since July 1988, according to the International Energy Agency.
Seeking to pacify the region, on Tuesday Buhari met Niger Delta leaders who presented a list of 16 demands, such as making oil firms move their country headquarters to the southern region and a army withdrawal from the area.