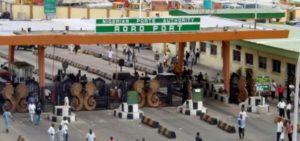 …Calls for review of concession agreement, auto policy to end smuggling
The Senate Committee on Customs and Excise yesterday in Lagos said that there is need for the Federal Government to review the ports concession agreement entered into by the Nigerian Ports Authority (NPA) in 2006, with private investors that took over cargo handling operations at the nation's seaports.
"We are going to look at the performance of all the terminal operators and those found not performing will have their concession agreements terminated. This will lead to the emergence of more serious minded private operators," said Hope Uzodimma, chairman of the committee.
The committee members, who were on oversight visit to the Apapa Port Command of the Nigerian Customs Service (NCS)

on Thursday

, expressed worry over the inability of port concessionaires to provide scanners for inspection of cargo at the ports, which according to the current concession agreement, is not the responsibility of terminal operators, but that of destination inspection (DI) service providers, whose contracts ended few years back.
According to Uzodinma, Customs has no business under the law to replace or buy scanners, because it is supposed to be the responsibility of the terminal operators as it is done in other countries such as Singapore.
"CEMA Act, Section 31, stipulates that it is the responsibility of the terminal operators to provide facilities at the ports. At the airports, the Federal Airport Authority of Nigeria (FAAN) provides scanners for Customs operations. FAAN is the operator of the airport, the same position the terminal operators occupy now at the seaports since the NPA has handed over cargo operations to them. So, the terminal operators should provide scanners if they want to remain in charge of the seaports," the senator added.
He further noted that terminal operators in port of Singapore compete among themselves to hit one million Twenty Equivalent Units (TEUs) of containers handled per month. "They provide enabling environment for their Customs to work. Why can't we do the same in Nigeria? We must say no to all this anomalies so that the country can move forward."
On the controversial Auto policy regime, Uzodimma assured Nigerians that the policy will be reviewed because it is counterproductive and its making Nigerian bound cargoes to go to neighbouring ports.
"We know it is the additional 35 percent, amounting to 70 percent duty that is forcing many importers to go to neighbouring ports like Cotonou and Lome. This additional 35 percent duty is the problem that is causing smuggling and it is not in favour of Nigeria but foreigners. So, we will prevail on government to remove it," he stated.
Recall that the Senate recently started a comprehensive probe into the activities of the Nigerian Customs Service (NCS) with a view to blocking all revenue leakages and enhancing revenue generation. The probe, launched by the Senate Committee on Customs and Excise, would look into ways to increase revenue generation capacity of the service.